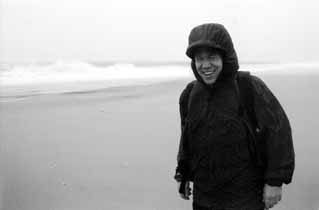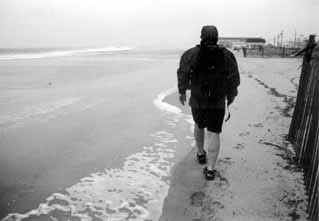 Todd Gathright, of Madison, N.J., who was on vacation with his wife Sept. 18 in Cape May, takes a solo stroll around 4:45 p.m. The only trouble, the entire stretch of beach behind him was as soggy as it is normally at surf's edge, making walking like sucking through muddy marsh. Hurricane Isabel's effects, high winds, strong wave action and high water were being felt with vengeance; eyes close to counter the force of the wind. Right, surf creeps up to the dune fence near Madison Avenue beach. Gathright is originally from landlocked Boulder, Colo. "Isn't this beautiful?" he shouts. Photo by Susan Avedissian/Star and Wave.
Cape feels few effects from Isabel
By BILL GODFREY
Cape May Star and Wave
Sept. 25 - Hurricane Isabel knocked out power to millions of people in North Carolina and Virginia, but coastal Cape May N.J. escaped the brunt of Isabel's punch with relatively minor damage.
Stinging rain and stiff winds arrived late Wednesday night last week, Sept. 17, and stayed through Thursday evening. While the city appeared quiet Thursday, many thrill seekers couldn't resist the excitement of the big storm and headed out into the fray to experience Isabel first hand.
Kerry Damanti and Matt Patsch of Norwalk, Conn., were in town to celebrate Patsch's birthday Thursday and weren't about to let a little rain spoil the fun. They walked along the promenade during the height of Thursday's rain, secure in the knowledge that they had dry clothes to return to at their hotel.
"I think this is really cool," said Patsch, as he and Damanti stood with their backs to the wind, trying to keep their faces dry. "We got here last night and it turned into this. It's great to see the surf like this."
"You've got to make the best of what you've got," added Damanti with a giggle.
First Responders in Cape May were busy Thursday as high winds knocked down power lines, including locations near West Perry Street and Sunset at about 2:30 p.m. and Fifth Avenue near West Cape May Elementary at around 3 p.m., leaving some residents without power for a time. Most schools in the area, including Cape May and West Cape May schools closed early Thursday and again Friday in anticipation of the storm.
Conectiv Power Delivery spokesperson Betty Kennedy reported 4 million people along the Atlantic coastline, including 350,000 Conectiv customers, were affected by Isabel.
"We prepared for this storm from the moment it was named. This is the most significant storm that has hit us in most people's recall," said Kennedy.
Conectiv serves customers in four states, including New Jersey and the Delmarva Peninsula. Kennedy said 82,000 customers were affected in South Jersey at one point, although that number could be higher once all reports are received. She said about 5,000 residents in Cape May County were without power for some time, although Cumberland and Salem Counties were hit harder.
"Cape May County did not receive the brunt of this storm," she said. "All customers were restored in South Jersey as of Monday evening."
Kennedy said most customers in Cape May County had power restored by Saturday, with some small pockets of power outages persisting into Monday. Vacations were canceled and extra material was stockpiled as Conectiv prepared for the storm. Conectiv belongs to a mutual assistance group that allows them access to crews from other utility companies. They also contracted for certain services like tree trimming, and reserve crews were brought from western Pennsylvania, Michigan and New England.
"Our crews worked hard," said Kennedy. "We came through this with our customers and our employees safe."
Local emergency management officials were prepped and ready to go were they needed, but Isabel roared through quickly on Thursday and by Friday morning the worst was passed. The state declared a state of emergency Thursday at 4 p.m. and Cape May County issued an emergency proclamation earlier at 8 a.m. Cape May County rescinded their order at 9 a.m. Friday.
Army National Guard trucks patrolled some areas, but the most noticeable vehicles prowling the streets were the dozens of news vans and camera trucks that parked along the beach front, photographing the waves and interviewing locals. The storm also attracted groups of hardy surfers from up and down the coast. The surf swirled on Thursday, but there was no shortage of boards in the water. Surfers spent time in the water as well as on the beach, answering questions from a small army of reporters who had arrived in town expecting a deluge but found instead throngs of curious thrill seekers lined up inside Sunset Pavilion watching the show.
By Saturday, everything was relatively back to normal. The Cape May-Lewes Ferry returned to a regular schedule Saturday after taking two ferries north along the Delaware Bay Wednesday to port facilities in Wilmington, Del., and reported they were ready to transport NASCAR fans to Dover Downs international speedway.
Coast Guard Aids to Navigation teams reported that channels along the Delaware Bay were safe for transit and cutters that had left the pier in Cape May returned home over the weekend. Coast Guard spokesperson CWO Bill Carson said recruit training continued and recruit graduation was held as normal Friday even as Coast Guard officials studied plans to possibly evacuate recruits to Fort Dix.
"We were prepared for the worst," said Carson.
The county reported minor clean-up operations along the bridges with only minor damage to county facilities, mostly from downed trees. The zoo reopened Saturday while Mobile Meals delivered extra meals on Thursday and resumed regular deliveries Saturday.
"Preliminary indications are that Cape May County weathered the storm," said Cape May County Communications Director Lenora Boninfante. "Most communities reported only moderate flooding. Currently local officials are in the process of assessing the damage. State, county and local officials worked together for Isabel and that preparation and a little luck seems to have paid off."
In Lower Township Sept. 17, NAS Wildwood Aviation Museum at the county airport stacked planes, firetrucks, ambulances and anything else they could fit into their hangar. Some private owners were nervous their planes would be damaged in the high winds and the museum allowed as many planes as they could fit to be sheltered in the 50-year-old hangar.
"If you leave these aircraft out and tied down on the runway, in 60-mile-an-hour winds, the ropes won't hold them and the aircraft would be damaged. We've had people calling from everywhere — Millville, Woodbine — asking if they could put them in here. So we started stacking them in here. More or less, if anyone calls, if we have room we will take it and get it out of the elements so it doesn't get destroyed," said Hangar Manager Tom Collins.
NAS Wildwood reported no damage to aircraft in their hangar although one plane left on the tarmac did come loose from its riggings and blow off the runway.
"We consider ourselves pretty fortunate," said museum spokesperson Anne Glowacz.
---
Historic homes might be exempt from new state rules on windows
By KRIS PROCTOR
Cape May Star and Wave
Sept. 25 - CAPE MAY — In addition to reviewing a number of upcoming historic preservation training opportunities, including an Oct. 22 Trenton workshop/seminar on the Rehabilitation Tax Credit Program for historic commercial buildings, the Cape May Historic Preservation Commission (HPC) learned Monday about a state regulation change which may affect new window installation here.
According to Karen Higgins, HPC recording secretary, the city has been advised of a New Jersey Building Code change, to become effective on Nov. 5, 2003, which requires new windows be able to withstand up to 150 mile-per-hour winds. Higgins said the rule is based on one already in effect in Florida, the scene of frequent tropical style storms.
Higgins also said double-hung windows, a standard feature on most historic and traditional-style new homes, may be prohibited under the new rule, which fits only open-out casement and awning-style windows.
According to HPC Chairman Skip Loughlin this week, further clarification is needed.
Loughlin said provision may have been made to exempt those new windows installed in historic homes, and, he said, state and federal historic preservation resources will be contacted shortly for additional information.
---
Another dog is attacked in Lower
By BILL GODFREY
Cape May Star and Wave
Oct. 2 - LOWER TOWNSHIP — Two unleashed German shepherds reportedly attacked a 10-month-old dog along the bayfront in the Town Bank section of the township the afternoon of Sept. 22.
"They swooped in to attack," said Rich Maloney, of Lower Township who owns the dog who was the victim. "It wasn't like they wanted to play, they saw my dog, and right away they came right at him. It looked like they were coordinated. One came from one side and the other from the other side."
Maloney said he was walking his 55-pound black lab mix between Adelphia and Beverly Streets when the two German shepherds appeared without leashes and without an owner around. The dogs had no tags, Maloney said, although one may have had a collar. He described the dogs as black and light tan, and having a slimmer build than most full-bred shepherds.
"As far as German shepherds go, they were not the really, really large ones. Some German shepherds are really big, bulky, thick-furred. These were smaller than that and the fur was not thick. They were bigger than my dog," he said.
Maloney and his dog, which was still on its leash, managed to fend off the attack for awhile.
"I would kick them in the head, Maloney said. "They kept trying to come back. When I kicked them, they'd run off a few feet but then they would circle back around."
The dogs never came after him, he said, focusing instead on his dog.
"I wasn't going to let them get my dog. They would have torn him to pieces or killed him," he said.
Making his way toward his friend's house, Maloney made it to a path leading to the street, with the dogs still following him. He picked up some rocks and threw them at the dogs, which finally discouraged the attackers. They finally ran and he hasn't seen them since then, and he's not sure who owns them.
"I heard my dog yelp at one point, but initially I didn't think they broke the skin, but when I got to my friend's house, there was blood on his nose, they got him between his eye and his nose."
Maloney said he called Lower Township police as soon as he got to his friend's house.
"The police came pretty quickly but they were unable to find the dogs," he said.
Maloney took the dog to a vet immediately, but the wound didn't need stitches. The vet cleaned the wound, prescribed antibiotics, and Maloney cleans the bite area twice a day.
He said he never experienced any problems with loose dogs in the township before, noting that most dogs he meets on the beach are friendly and with their owners.
Lower Township has had much-publicized problems this year with dangerous dogs running loose and attacking other dogs. This is at least the fifth reported incident in the Villas and Town Bank area since the spring. Dog owners here appealed to township officials to address the problem and the township passed an ordinance this summer which tightened ownership laws for dogs deemed vicious, as well as promising to more strictly enforce laws already on the books.
This summer, Lower Municipal court ordered two Rottweilers with a reported history of biting and running loose to be euthanized after they attacked another dog and left it with 100 stitches. The owners of the Rottweilers took them to a kennel in Middle Township where, with the help of animal rights activists and local officials, they transferred ownership to the owner of the kennel. The change of ownership disabled enforcement of the Lower Township court order and the vicious dogs are safe as long as they stay out of Lower.
The dogs are currently boarded at Bayside Kennel in Middle Township where owner June Dulinski has responsibility for them. Middle Township Animal Control Officer Bill Candell said Dulinski's kennel meets state guidelines for kenneling dogs declared vicious by a court.
Jeanne Smith, spokesperson for the group that helped save the Rottweilers said the kennel will keep the dogs until they can be returned to their original owners, "when things blows over," she said.
On Sept. 3, Lower Township Council announced the township-wide dog census has begun with a license required for all dogs over six months plus proof of rabies vaccination.
A Lower Township police spokesperson said police searched the area for the shepherds but were unable to locate them. Anyone with information on the shepherds in this most recent attack are asked to call Lower Township police.
---
WCM boro to see $140K for Sees Alley improvement
By BILL GODFREY
Cape May Star and Wave
Oct. 2 - WEST CAPE MAY — Mayor Bob Jackson announced last week the borough will receive a $140,000 bike path grant from the New Jersey Department of Transportation in fiscal year 2004.
"It's a bicycle pathway grant the Department of Transportation gives out. I guess there's four or five available for our general area and we were fortunate enough to get one. What we're going to try and do is beautify Sees Alley," said the mayor.
Sees Alley is an unimproved thoroughfare between Fourth and Fifth Streets in the borough, heading east from Broadway. The alley is paved near Broadway but becomes a grassy strip further west.
"We'll do it nice. It's going to be a nice thoroughfare between Broadway and Columbia Avenue for the kids to use for school. Kids can use it for skateboarding if they choose, but it can be used by any biker or walker going from Broadway back to the farm lanes, so anybody going down Broadway can divert there and can stay off the main streets."
There was some resistance from borough residents when the application was initially announced several months ago. Some were against paving over the natural, permeable surfaces and the loss of green space. Others were concerned they would not be able to drive their cars on the new bike path and said it could affect access to their property.
"There may be some limited access because we do have a couple of people who have been parking on it. Safety is a big concern. We may end up asking them to park somewhere else. We want to be as community-friendly as possible. The alleys aren't supposed to be for regular egress and regress — coming and going — they're for emergency purposes," he said.
Some state grants come with stipulations that require municipalities to match a portion of the grant. Jackson said as far as he knows the borough will not have to match any of the grant money. He said the only costs involved for the borough will be the engineering fees and the application cost of $500.
Jackson has drawn criticism from some who say the grants, while providing needed funding, are not a good idea in that they sometimes come with the need for the borough to match a portion of the grant before they can receive any money. Sometimes the money comes in the form of loans, and some are just not in favor of incurring debt in the borough's name.
"We actually look at (grant applications). We look at what the requirements are and we look at the need. Everybody thinks Trenton just throws money in the air. They look at the project and if it's not worthy, they give it to somebody that is. I just don't submit a shot-in-the-dark application. We really do look at the need and say, 'Hey we could really use the funds to do certain things.'"
Residents also raised concerns the borough was wasting money on grant applications they had no hopes of receiving. Jackson dismissed those claims and said he only applies for grants he thinks the borough needs and has a chance of winning.
"We're sitting down and really looking at the community's needs. Our streets still need to be safe; we need a safe way to and from school. Fourth Avenue's a problem because it's a county road and the speed limit's pretty high. This bike path grant can really help us."
Some had argued that stone would be a better surface for the alley to preserve its rustic nature.
"Stone is a safety hazard to somebody riding a bike. We don't need to be putting the borough at an insurance risk. If we're going to do that, we need to do it properly. Properly is creating it, paving it, making sure the water is channeled properly so we don't create problems."
A spokesperson for the DOT declined to comment on the grant saying that grant awards for fiscal year 2004 had not been officially posted yet.
Jackson said previously approved improvement projects for Broadway and Leaming Avenue are still in the bid process. When bidding is closed, they will be reviewed. After that, the bidders will be certified and a contract for the work will be awarded.
"Once that happens, we'll sit down and look at the needs of our business community. We want the least impact on our business community. Probably Leaming Avenue will be first thing done."
As mayor, Jackson has successfully pursued and secured approximately $3 million worth of federal and state grant money for various improvement projects in the borough.